Your optometry website should be attractive to potential clients. This means it must be user-friendly as well as fast and informative. Visitors to your site should navigate pages to find the information they need without making unnecessary clicks. One way of ensuring this happens is to add a virtual assistant, sometimes called a chatbot or virtual agent, to your site.
Adding a virtual assistant to your website benefits both you and your customers in multiple ways, including:
Customers are able to find answers to their questions anytime of the night or day.
Phone calls and email questions to your optometry office are decreased.
You and your employees spend less time fielding inquiries.
Consumer satisfaction rates increase.
Consumers love interacting with well-built websites, and studies have shown that not only do millions of people shop for goods and services online, but more and more, they're adding phrases such as "near me," "open now," and "nearby" to their requests. This is why your optometry website must provide instant access to your daily hours of operation, your brick-and-mortar location, and the services you provide. This information needs to be easy to find, and your website must be responsive and simple to use. A virtual assistant is your first line of defense.
What Does a Virtual Website Assistant Do?
Your virtual assistant is usually an animated character that pops up when visitors to your site spend time on a page.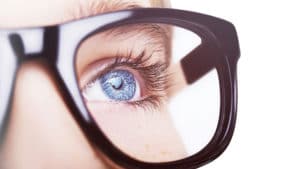 It's capable of starting a chat session and providing answers to simple questions via hyperlinks to the correct page. In this way, consumers don't waste time clicking from page to page to find the answer they need. Chatbots such as these use artificial intelligence to provide solutions to consumer problems.
How Do I Add a Virtual Assistant to My Website?
You can partner with a marketing company such as Digital Healthcare Solutions to create a chatbot that guides clients around your optometry website. You can even customize what your animated character will say by submitting a greeting and keywords that pertain to your site. This ensures that someone is always available online to answer simple questions and provide a basic level of customer service. Better, you won't have to pay an employee to constantly monitor the site.
Contact Digital Healthcare Solutions Today
Digital Healthcare Solutions can improve the way your optometry website looks and performs, and we're eager to discuss options for tweaking your online presence. Contact us today for a professional consultation.
—
https://www.chatbots.org/virtual_assistant/
https://www.hubspot.com/marketing-statistics
https://digitalhealthcareprofessionals.com/wp-content/uploads/2020/08/womanThickFrameGlasses_xl.jpg
1080
1920
Dave Richardson
https://digitalhealthcareprofessionals.com/wp-content/uploads/2021/02/dhpLogo_mk1-300x120.png
Dave Richardson
2021-02-19 19:34:25
2021-03-03 18:55:17
Does Your Optometry Website Need a Virtual Assistant?